Basketball Game On Pre-algebra addition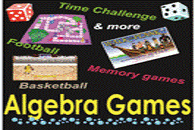 Find percentages of numbers Basketball game for 4th, 5th, 6th and 7th grade students.
This game is an interactive algebra equations basketball game for kids online. It is actually interactive online quiz that embeds the fun concept of playing a basketball challenge. Students are required to solve algebra 1 equations particularly linear equations involving addition. Each equation contains a missing variable; students have to solve and find the value of the missing number. This math game is a fun activity for children from in 4th, 5th, 6th and 7th grade. This game is a game that can be played by a single student or by groups of students.
fun learning online. Math Games | Math playground | Math quizzes | Cool math games | Free Math test