Crocodile Game On Introduction to Pre-algebra addition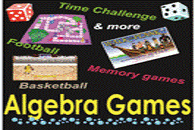 Pre-algebra Addition crocodile game for 4th, 5th, 6th and 7th grade students.
The crocodile board game is a fun educative game which students can use in the current case to review pre-algebra. Students are required to have skills in solving linear equations. You can get more khan academy linear algebra practice by going to the designated website. Playing board games is fun and students also learn during the process. In this case students will solve mcq's on algebra addition problems. Roll the dice to find which problems you have to solve. Solve each problem and find the correct answer. Avoid the crocs on the way and get to the final spot. Parents and teachers will love it.
fun learning online. Math Games | Math playground | Math quizzes | Cool math games | Free Math test